Hi, Philadelphia
More than the region's most skilled technologists, our team combines unparalleled engineering acumen with an artist's touch, designing and delivering home technology solutions as elegant as they are robust. Hi Solutions' Philly team serves Philadelphia, Bucks, Delaware, Burlington, Camden, Chester, Montgomery and Cape May Counties.
Meet the Team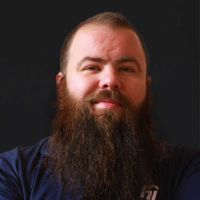 Ben Marlow
Ben has an esteemed background in Engineering, which always leads him to look at the "big picture" when it comes to integrating technologies in the home and business. Entering the Home Automation industry in 2006, Ben knew that his passion for IT and A/V were on a rapid collision course to provide customers with the next generation of digital control and information.  Ben takes great joy in designing experience-centric systems that leverage best-in-class home automation technology that deliver comprehensive yet simple home and business solutions. Ben is excited to join Hi Solutions as it will allow him to work with a wonderful team of like-minded people to deliver a unique way of looking at technology and its relationship to his customers.
When not working, Ben enjoys a good bottle of Scotch, playing disc golf, pretending to be a professional gamer and enjoying his inordinate collection of boardgames with friends.
Patrick Mattucci
Honorably Discharged from the United States Army in 1992 after serving 3 years active duty, Patrick worked in the HVAC industry as a sheet metal fabricator and installer. Although he enjoyed his time in that field, it wasn't his passion, and he was ripe for a career change. In 1997, Patrick worked as an apprentice and eventually became an Installer for Hi-Fi House of Broomall, Pa. While Mr. Mattucci enjoyed his time as an Installer, he noticed the positive impact the Designers he worked with had on his customers, so he pursued an opportunity in Design & Sales. Commencing in 2000, Patrick worked as a Senior Systems Designer for Hi-Fi Sales Company of Cherry Hill, NJ., and was with the company during their merger to Bravas A/V of Philadelphia, a national A/V integration firm. In 2020, Mr. Mattucci was a Co-Founder of the Home Integrator of the Delaware Valley, which was subsequently acquired by Hi Solutions as part of their nation-wide roll-up strategy.
As Client Acquisition Manager for Hi Philly, Patrick's passion lies in building relationships with our team members, as well as our clients, specifiers, and manufacturers. Mr. Mattucci's goal is to facilitate the democratization of home technology through evangelization and successful delivery of The Autonomous Home Experience to every home and business in the Philadelphia and Southern New Jersey territories.
Chazz DeVault
With an extensive background in Information Technology and lover of music, Chazz found the perfect intersection with a career in the custom installation & smart home industry. With 22 years of experience, he has worked in all aspects of this field; entry level technician, lead technician, project manager, department manager, systems designer, and various administrative roles. The diversity of Mr. DeVault's training affords him a well-rounded perspective on what it takes to be successful in this industry.
As 2020 approached, Mr. DeVault wanted to take his career to the next level so he Co-Founded the Home Integrator of the Delaware Valley, which was subsequently acquired by Hi Solutions as part of their nation-wide roll-up strategy, with the intention of making a meaningful impact on the way people experience technology and creating a company culture the industry has never seen before.
"We joined the Hi Solutions team because they're a forward-thinking company whose culture, mission and vision is totally aligned with our values and go-to-market strategy. By combining our assets and expertise we will be able to accelerate revenue and offer our customers services and experiences that are second to none in our industry."
Ben Marlow
Testimonials
Hi Solutions: Hi Solutions Philadelphia
is rated
5

out of

5

based on

60

reviews from around the Web.
Great service and professionalism.

The Hi Philly team was very professional, competent and customer-centric. I highly recommend Hi Solutions and the Hi Philly team.

Hi solutions does a great job! Super responsive and explains all tech stuff so that you can effectively use everything !!

Hi Solutions is an excellent company to work with.

A great team. Professional and knowledgeable. I have used them a few times as have my friends and family.

Pat and his team did an amazing job for us in providing recommendations and installing energy efficient, enhanced safety and higher quality products for our...

These guys are fabulous. I am a stickler for excellent wifi and they will be sure you have the best coverage in every corner of your house.

Great work, good ideas in the design process, love the outcome with our new tv and sound system. Highly recommend for quality and value.

The communication and customer service was exceptional, and he was able to complete the project and exceed all of our expectations.

Great team. Colin, Jarred and Pat are very professional, knowledgeable and patient.

Great company to work with, highly recommend.

Pat was referred from our dear mutual friend. Chazz was able to rectify some software issues with my camera system neglected by previous company that did the...

Hi Solutions — Philadelphia brings the expertise, consultative experience and 'service with a smile' attitude that sets them apart from anyone in the region, hands down.

I would highly recommend Hi Solutions. I have worked with Pat and Chazz for many years and they never fail to deliver.

Their approach is always thoughtful and practical. The work is clean and precise.

Amazing service! The best feature is their ability to clearly understand my needs and then deliver right on point.

Excellent quality and very professional presentation. Pat was extremely helpful with finding a cost effective yet high-end solution

The team did outstanding work. Very happy with their recommendations and results

I worked with Patrick and Chazz on a home theater project and could not be happier with the results . They showed great professionalism and efficiency in...

I have used Pat, Chazz and team on multiple personal and business projects and all have been perfect! They are currently working on my biggest one year!...

I started my movie theater project with Pat who is very knowledgeable. Pats entire team was AMAZING! USE THEM YOU WILL NOT BE DISAPPOINTED!

Great organization and team. They installed a sound system in our restaurant and both service and quality were excellent.

This team puts the "easy" into how to get an autonomous home (tv, lights, alarm, smoke/CO detectors, flood lights, etc) that I can run from my phone, with...

The team provided excellent service at a fair price. Highly recommend.

We found him to be very knowledgeable and responsive. We both ended up being very satisfied. Recently, we requested a service call.

I have known High Solutions for many years. My home network, home theater all designed and installed by High Solutions. Ben and his team extremely...

I've been doing business with Pat Mattucci for about 12 years I buy all my stereo and video in both my home in my business from him hundred percent reliable Chaz is also a pleasure to work with

We are beyond satisfied with our experience with this company and its technicians. They are so knowledgeable, friendly and professional.

I can't say enough good things about Hi Solutions! From beginning to end, the experience was flawless. A+ company.

Showed up on time, fast, clean, knowledgeable and a good value.

I am beyond pleased with everything that was done by this company in my new home! Everything works beautifully.

Excellent experience! Pat and his team did it again! Most professional, high quality company you can find. Recommend to anyone!!

ALWAYS UP TO DATE ON CURRENT TRENDS AND TECHNOLOGY!!!! I HIGHLY RECOMMEND HI FOR YOUR HOME THEATER NETWORK!!!!

Best service, extremely professional and always available to service us whenever we need help.

I have worked with Hi solutions, Pat Mattucci in particular, on numerous occasions. I think they have outfitted at least six homes for me. The fact that I...

Hi Solutions did an awesome job! I would hire them again for all my IT needs.

I have used them for many jobs, and everyone has been professionally done.

The techs did an outstanding job with the installations and they problem solved technical issues along the way.

That are committed to their clients

The communication and customer service was exceptional, and he was able to complete the project and exceed all of our expectations.

Ben and his team creatively solved a number of our complex sound and lighting problems, coming back multiple times, and worked very well with our designer....

Took care of everything they said they would

I can't say enough about Ben and his team. Polite, professional, well prepared and, most importantly, they take enormous pride in their work.

The service and support is like no other. I never feel as if I'm on my own here. I couldn't be more grateful!

Chazz and team have done work for us in every property we have, including home theater, wifi, whole home sound, etc...They are the best- great at installation and the service and support is top notch.

Very knowledgeable and respectful. Knew how to do everything. Just the best

Pat is not only friendly, he is extremely knowledgeable when it comes to technology. He provided us with exactly what was needed and didn't try to sell us...

I have used and recommended Hi a few times over the past year or so and they are excellent every time.

Pat and Chazz do high quality audio visual integration and are technically competent to take on any project.
Location
86 Tomlinson Rd, Suite D
Huntingdon Valley, PA 19006
Hours
Monday - Friday: 8AM - 5PM